Polyphony is a music theory learning app that takes the frustration and confusion out of teaching yourself through YouTube. It learns the interests and skill level of its learners and uses AI to connect them with YouTube videos that teach what they want to learn, how they want to learn it, in the quickest way possible.
Watch my Elevator Pitch here, or below: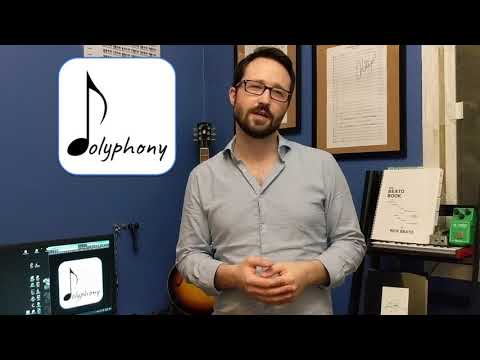 View my Venture Pitch here.
Thanks, and I very much welcome your feedback!
Scott Skanes
– – – – –
My Reflections on the Experience
I found this assignment incredibly difficult to complete. Early in this course, we learned how 95% of startups fail at the elevator pitches, with 95% failing at the subsequent venture pitch. This suggests that 0.25% of startups (one in 400) make it to a business plan. I now know why this is the case. Putting together an airtight pitch is a monumental task.
I had never before considered starting a business. This assignment taught me there is a huge difference between analyzing someone else's venture and trying to create your own from scratch that "tick all the boxes". Applying concepts I'd internalized from my time in this course to create a realistic original venture turned out to be a huge learning curve.
I vastly underestimated the time it takes to make a quality venture pitch. 8 points (1-Pain Point, 2-Solution, etc) may not seem like much, but it really is. I had about two weeks or to truly devote this project; I could have used two months to refine the concept and pitch.
I thought about this project almost constantly for the two weeks I was working on it. It became intensely personal. I felt a real attachment to the idea and its viability. I can only imagine how "real" entrepreneurs feel, and why they're so often nervous during their elevator pitch. In many ways, it's their baby, and everything is riding on its success. While working on Polyphony I had a burning desire to keep making it bigger and better, to add more features to make it more original, functional, interesting, innovative. I had to keep reminding myself that I wasn't a "real" entrepreneur – at least not yet – and the bigger this thing became the less likely I would be able to help others understand the "big idea". I needed to remember I should be shooting for a minimum viable product.
To this end, I had a really difficult time reigning in my idea. "Maximum 2000 words" loomed large over my head the entire time and, to be honest, it was quite paralyzing. I believe all of you would agree that it is a monumental task to boil down a big idea to its purest essence, and sometimes I would find myself having worked for hours on refining an idea, ensuring every aspect of my product was viable, only to feel like I had a handful a words to show for it. I have so much more respect for entrepreneurs who can ground big ideas and make them relatable. Ruthlessly cutting content to reach the core of an idea is an art, one I have a long way to go toward mastering.
On a practical note, I originally wanted my venture pitch to be an 8-minute video but I was terrified of running out of time to produce a quality product.
All this aside, I feel like my venture pitch has some key strengths.
It is well-designed and easy to navigate. The most important takeaways are clear, using large, bold fonts, and supporting information is as concise as I could manage using bullet-form where necessary.

The pitch itself is original and exists to meet a real need. Teaching yourself music through YouTube is common but frustrating and often futile. People need direction and connection to others for support and my app would provide that.

The way I've leveraged AI is quite simple but powerful, which makes for an interesting and realistic solution to the problem.
My venture also has glaring weaknesses.
It's lacking in rigour when it comes to finances. To put it bluntly, I have absolutely no business education. I researched what I could to create a realistic Ask, but it's all just estimates; I would need financial advisement before I would ever bring this pitch to investors.

It's lacking in concrete data when it comes to the market. I know, for example, there are hundreds, perhaps thousands, of people on YouTube making videos on music theory. They have tons of subscribers. Even so, getting any usable data on any of this proved extremely difficult, leading to a lack of rigour in this area.
Am I cut out to lead a venture? At this stage, probably not. I have the passion, even the vision, but I don't yet have the business smarts to carry this idea through. I would need to team up with a few other talented individuals who could support my vision with business know-how, and get some more hands-on experience with ventures, before I would feel comfortable having skin in the game.
I'm proud of coming up with what I feel is an original take on an educational venture, and I look forward to knowing what others think about it. Heck, if you like it enough maybe we could work together to turn it into something tangible!