Did you know that over $362 billion US dollars was spent last year on workplace training globally? It could be a massive efficiency gain if employed effectively within your company; however, the important question to ask is how this can be done without sacrificing training quality? EVA investors – The solution is here. Introducing:
For a brief pitch of the product from its very own CEO, watch the video below.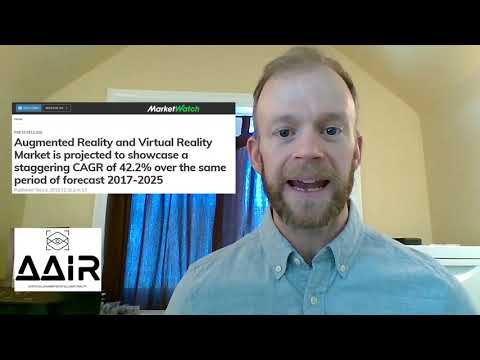 If you're an investor looking for more detailed information on the AAIR suite of products and how it can improve workplace training quality while also potentially adding millions to your company bottom line, visit the Prospective Investor Information Package.
—
A3 Personal Reflection

Realistically, a venture of this nature is not far development, as it combines existing technologies, algorithms, and products in a disruptive manner. However, with never having been combined to create a product such as this, this endeavour will require significant financial backing to research and develop. Some suspension of disbelief was incorporated in to the product details, however I'm of the notion that products similar to this will eventually become a common workplace training solution.
In designing and developing this fictitious venture to meet the needs of mainly manufacture-based training, I considered factors using the CUBE analytical framework, as well as factors that I would be looking for in cutting edge training quality and efficiency, if I were the client. I also considered characteristics discussed by Tony Bates in his SECTIONS framework for how to best select and adopt a technology were considered: students/users, ease of use, cost, teaching/training functions, interaction, organizational issues, networking/connectivity, and security (Bates, 2017). My thought in combining existing technologies was an effort to demonstrate how, if implemented properly, the next generation of AI and AR could be used to uncover enormous efficiency gains within organizations, as well as even potentially save lives in an all-round efficient and effective training suite.
I also acknowledge two limitations of the elevator and venture pitches:

The backdrop of the elevator pitch

. My intent was to create a 'real' pitch; one directly from the CEO & Founder that you can appreciate and see the passion and belief in the product, in turn increasing buy-in. However the limitations of my filming spaces may have created a distracting backdrop. Efforts were made to mask this with images and transitions, however if this were an actual elevator pitch, more careful consideration would be placed on ensuring a neutral video backdrop.

The traditional format of the Venture Pitch

. Throughout development of the venture pitch, I was thinking in a traditional context: to create a linear, progressive handout-style report. In retrospect, a website or other digital artifact would have been more engaging, able to showcase the venture features a little more interactively, and be better tailored to present the pitch details toward potential investors.
Finally, I have a friend who just took on employment at a software development company. She described the interview process as a series of informal lunch chats, very atypical of your traditional job interview process. No C.V., no reference check. In retrospect, the lunches themselves were simply a personality gauge to see if her goals, core principles, and characteristics aligned to those of the CEO. This demonstrated the importance of the team to me, and upon this reflection drove my additional emphasis on the key leadership members at AAIR.
This project (and course) allowed me to become more cognizant of venture characteristics from an entrepreneurial perspective, such as market competition, demographic focus, and market status, and I ensured they were captured in the Venture Pitch above.