Week #5- Digital Textbooks OER by Charmaine, Jennifer, Scott, and Sarah
Are you an educator concerned with the rising costs of textbooks? Are you looking for ways to better engage your students? Are you interested in open educational resources?
Take a look at our stop motion video below as our official "Launchpad" for digital textbooks for this week!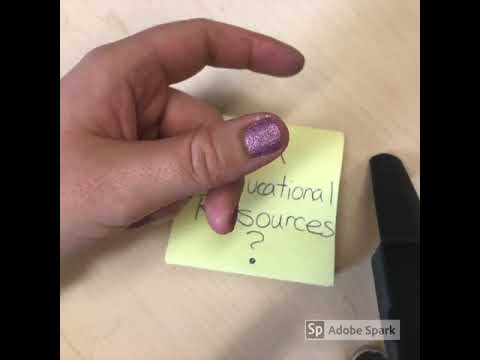 https://youtu.be/I1pyCLgQ_G4
Once you have checked out the video, head over to our OER at  https://digital-textbooks.weebly.com/
We are excited to host you and teach you about the exciting field of digital textbooks.
Best,
Charmaine, Jennifer, Scott, and Sarah
---
Remember to login to leave feedback!
13 Jul
Hi Team, thanks for your OER. I really enjoyed the e-book making software! My students are planning on designing a guidebook about learning disabilities, and could really benefit from this freeware, so thank you for sharing it. I also really enjoyed the way you organized the activities in the website. While I don't see my workplace adopting digital textbooks anytime soon (change is scary!), it would certainly benefit our students' technical and design skills to make one of these as a project. Hopefully it would give them more confidence in experimenting with digital software, too. Great work!!
27 Jun
Hi, Team, thanks for this informative OER and I enjoyed this pleasant learning journey. The digital textbook is not new for us and is not a hot topic as well, while this learning resource is beyond my expectation. I like the interactivities and market updates of e-textbook. What surprised me the most is the fact that it's so challenging for even the most basic educational technology (e-books) to land in schools and classrooms of a developed country. It is not difficult to imagine how big the gap between the ideal and reality of EdTech is.
18 Jun
I really like the website! Defining the sections therein as chapters was perfectly on the nose without being too obvious, the breakdown of different hosting sites really gives a solid overview, and, selfishly, as a teacher this looks like something that may be worth exploring for me in my own practice.
11 Jun
A really great introduction to digital textbooks. They are great ways to compile an almost website like interactivity into a book-like format. I enjoyed the different sections in the OER and the associated tasks. Overall the work flow was intuitive to follow and the website was clean and easy to navigate. Thanks for all the time and effort in making in happen :)
9 Jun
Firstly, thank you team DT for introducing me to Visme. This is such a fantastic resource and I will be recommending a team license it to my organizaition for a number of projects we have in the works. Graphic Designers to build manuals in InDesign are incredible expensive, so I love the user friendly nature of this resource and that projects can be worked on by a number of people at once. Also, I think your tea, did a fantastic job creating this OER and educating us about the landscape of digital textbooks in education. I especially liked that you used a variety of different mediums to present your information, and that you did not rely solely on text and pictures. I also thought your idea to do the stopmotion video as an introduction to your OER was clever and certainly got me excited about learning more. One thing I would have liked to see in one of the chapters (likely Chapter 2) would have been some of the pitfalls of digital textbooks and why the move to purely digital is slow despite the fact that there are so many positives. At the same time, I really enjoyed this weeks lesson, and can clearly see that a great deal of work went into preparing this lesson. Thank you for the great kickoff to our Opportunity Forecasts!
9 Jun
Great work Digital Textbooks group! I had very limited knowledge of digital textbooks before this OER since I still predominantly deal with physical copies or non-interactive PDF's. Your OER is well-organized, easy to follow, and has valuable information for a variety of contexts. The Higher Ed section was especially relevant to me and the infographics were a great way to visually organize the information. I learned a lot.
9 Jun
Grade job week 5 team! Along with our fellow classmates I also enjoyed the flow and set up of your OER. As a person who has not had any experience with digital textbooks, I really enjoyed going through the history of their creation as well as reading about the pros and cons compared to traditional textbooks. There are definitely benefits to both, but the way that education is going, it is very clear that digital textbooks are the way of the future - especially factoring in the environmental impact that traditional textbooks have. I really like how you provided a resource (Visme) that one could use to create their own digital textbook. Even though I was limited on the time I had to spend creating my own version - I really enjoyed the user friendly nature of the site and can see myself using it in the future over Canva for my needs. The activities that you selected were simple but yet very effective to your topic. I enjoyed the selective nature of Discussion Prompt #1 and ability to see others creations in Prompt #2. Great job!
8 Jun
Hello Week 5 team - I thoroughly enjoyed your layout and structure of your OER! It was a great tool to highlight the strengths, areas of focus, and future projections for digital textbooks. My classroom uses digital textbooks for math, but am aware that other subjects such as science also utilize their resource digitally. Subjects such as English and Social Studies are still using the print, though I wonder if there is a discussion regarding the potential strain of reading heavy volumes of text from a screen. One recommendation that I would appreciate learning in greater detail is regarding the formalizing process of creating a digital textbook. As I had great fun in creating my textbook, I know that my own taste of personality and curriculum focus may not be the best approach for other educators - so what would be the outlined process of creating a textbook for online access, or would I be recommended in only creating it for my classroom?
8 Jun
Hey Digital Textbook team - I enjoyed your OER. One thing I'm wondering about is the topic of ownership vs. licensing content. Did you come across any discussion about what a person gets for the cost of a digital textbook? I've heard stories of students getting a digital textbook for classes and essentially, they are just paying for access to the content during the semester. Further, while it sounds like costs could be lower for a digital textbook, I wonder what the profit margins are like for the book publishers? Are all of the savings related to production and shipping being relayed to the purchaser? Thanks!
8 Jun
Great job on the OER! Very well laid out and informative! Thank you for introducing me to Visme as this is something I would really like to use in the future! The aesthetics of your OER was also excellent and I appreciate the simplicity of the activities that were engaging without being overwhelming!